Custom Concrete Curbing
100% Satisfaction Guarantee!
Custom Curbing and Edging Experts
Superior Customer Service
High-Quality Lawn Care for Your Yard
Improves Curb Appeal of Your Home
GET A FREE ESTIMATE
Have you considered installing custom concrete edging on your Southern Maryland property? It's a long-lasting feature that will look just as beautiful in the years to come as it did on installation day. But we're not just talking about a slab of flat gray pavement! Custom curbing comes in a variety of colors and designs. So you can choose the perfect look to frame your beautifully landscaped property.
For the best custom concrete curbing in Southern Maryland, give us a call!
Call
(240) 249-5100
Contact Us for a Free Estimate!
Installing Custom Curbing in Southern Maryland
How do we prepare your property?
Inspect the area
Level out any uneven ground
Prepare a path for the curb machine
Mix the concrete
Once your property is ready and the pavement is mixed with the right color, we use a high-quality machine to install the edging. Next, we stamp your preferred pattern, cut control joints, and add a few finishing touches.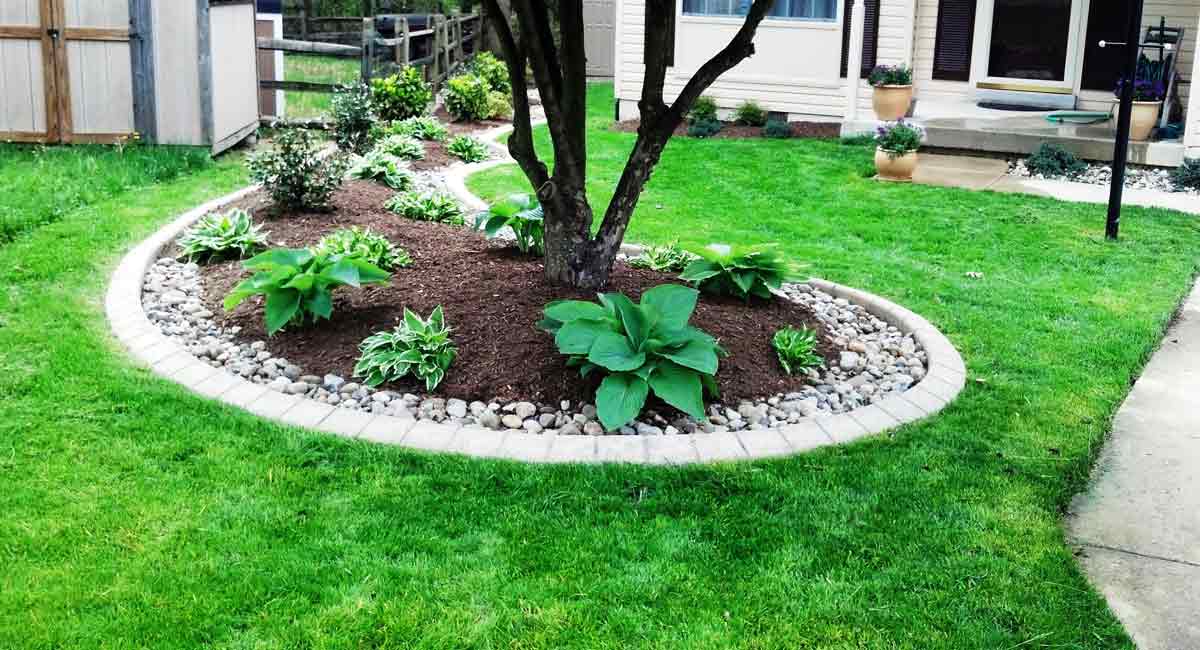 After Custom Curbing & Edging Installation
You might be eager to start fixing up the yard once you see your beautiful curbing, but we suggest putting a hold on any landscaping work for at least two days after installation. Even then, you'll want to be cautious around your curbing for another few days. We recommend sealing your edging after 30 days. This will help maintain the color of your curbing.
Will it ever break? With a lot of wear and tear, all concrete eventually begins to crack. We want to extend the life of your pavement as much as possible. So we install joints every 12-18 inches to increase its crack resistance.
4 Benefits of Custom Curbing in Southern MD
Sturdy
Concrete won't rust like metal edging or easily break like plastic edging.
Weed Prevention
Concrete Curbing creates a barrier against insidious weeds, preventing them from getting into your flower beds.
Increases Curb Appeal
Pavement can smoothly follow any curves in your landscape design, giving your yard a smooth, seamless look.
Real Estate Value
A well-maintained property, that looks good when you pull up, sells.
Period.
About Southern Maryland Landscaping & Lawn Care
We're the top-rated landscaping company in St. Mary's County, Calvert County, and Charles County. We encourage you to read our reviews and ask past and current customers about their experience with the Southern MD Landscaping team. We're proud of our reputation because it means we're serving our community well.
We focus on really listening to our clients. And, after getting a clear picture of what they want, we transform their property into the yard of their dreams. Are you ready for your yard's transformation? We'd love to help! We'll take good care of your residential or commercial property.
Landscaping Maintenance
Custom Landscape Installs
Custom Concrete Curbing
Lawn Care
Hardscaping
Fall Cleanups
And More!
Counties We Serve Southern Maryland
St. Mary's County
Calvert County
Charles County
Towns We Serve
Mechanicsville
Charlotte Hall
Lexington Park
California
Leonardtown
California
Hollywood
Chaptico
Dunkirk
Owings
Huntingtown
Prince Frederick
Chesapeake Beach
Saint Leonard
Hughesville
Waldorf
Saint Charles
La Plata
Call
(240) 249-5100
Contact Us for a Free Estimate!